Waterfront living is unrivaled in terms of its advantages and overall lifestyle. Understanding all the details of owning waterfront property is crucial to making a wise financial decision when thinking about purchasing this type of home. Austin is home to some spectacular waterfront properties. In fact, there are so many to choose from, so we've compiled this guide you may reference to ensure you are fully versed in all things waterfront before signing on the dotted line. As a native Austinite I know what makes life better at the lake. My family has been a part of the Austin lake life for generations....the lakes were even originally named after my great great grandfather! Most weekends and even some week nights you will find me out on the water with my family enjoying the beauty of Lake Austin.


Brief Highland Lakes History
Situated on both sides of the Colorado River and known for its magnificent man-made lakes, Austin is surrounded by water. Dams were built to form seven reservoirs, and the established lakes around the community included Lake Austin, Lake Travis, Lake LBJ, Inks Lake, Lake Marble Falls, Buchanan Lake, and the honorary Lady Bird Lake. These seven reservoirs comprise the Highland Lakes.

The Highland Lakes were created not just for recreation purposes but to supply Texas farms and businesses with various resources. These lakes were designed to prevent flooding and provide hydroelectricity. Mayor John McDonald built a dam on Lake Austin in the 1890s to boost Austin's industrial reputation; however, the dam was unsuccessful, as in 1900, the dam collapsed, and Lake McDonald evaporated. Nearly 40 years later, with Roosevelt's New Deal in place, things improved. The Mansfield Dam was built in 1942, establishing Lake Travis. The Longhorn Dam was built in 1960, which gave way to Lady Bird Lake's existence. Today, these lakes supply water to over a million people, businesses, industries, and the agriculture and ecosystems in the lower Colorado River basin.

This pristine, urban 22 mile shoreline is a vital aspect to Austin's thriving community and a breathtaking location to call home. Kathryn, Mayor McDonald's great-great-granddaughter, is passionate about Austin's waterfront history and looks forward to connecting residents with gorgeous estates along its shores. Over the last 20 years I have sold some of the most sought after Lake Austin estates. Not to mention recently I sold the highest priced home in all of Austin located on one of my favorite Lake Austin streets. Life is truly better at the lake!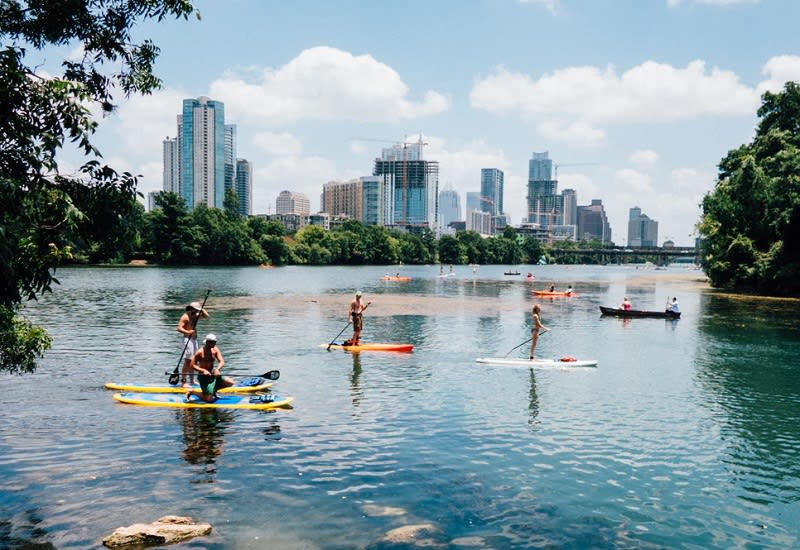 Considerations When Purchasing Waterfront Property
There are many necessary steps to take before closing on a property. When seeking a waterfront home, these steps can get considerably more complicated. By specializing in waterfront homes I can guide you through the complex process of purchasing this type of property. You'll want to consider doing the following to ensure a smooth purchase:

◾ View the property as a whole: Perhaps you come across a spectacular house, but the location isn't best. The water may be muddy, or the views aren't as scenic as you'd like. Maybe you don't have as much privacy as you desire. While there are attributes of the house that you will be able to change, the aforementioned things are many features you will not be able to change. You need to love the home enough, but you need to love the property in which it occupies even more.

◾ Zoning restrictions: Consulting a real estate attorney will be vital in understanding the zoning laws that impact the property. You'll want to know matters concerning conservation, environmental impact, and wetlands in order to have an idea of what you can do to or on the property. Do you want to add a dock, make changes, or construct other additions? Zoning laws are key to knowing if you'll be able to make those adjustments. Find out what changes you're able to make before pouring a lot of money into waterfront property. Another consideration is what activities are allowed on the water, as some areas have restrictions on jet skis, speedboats, and other water sports recreation.

◾ Find a property suitable for your lifestyle: Say you find a stunning property, but it's an hour away from all the conveniences and amenities you adore! You'll need to consider your passions and activities you enjoy and how they pertain to waterfront property. Do you need a scenic view of the lake? Do you seek to be closer to local bars and restaurants? Be sure that the home location can accommodate all the lifestyle factors you need to lead a happy, fulfilling life.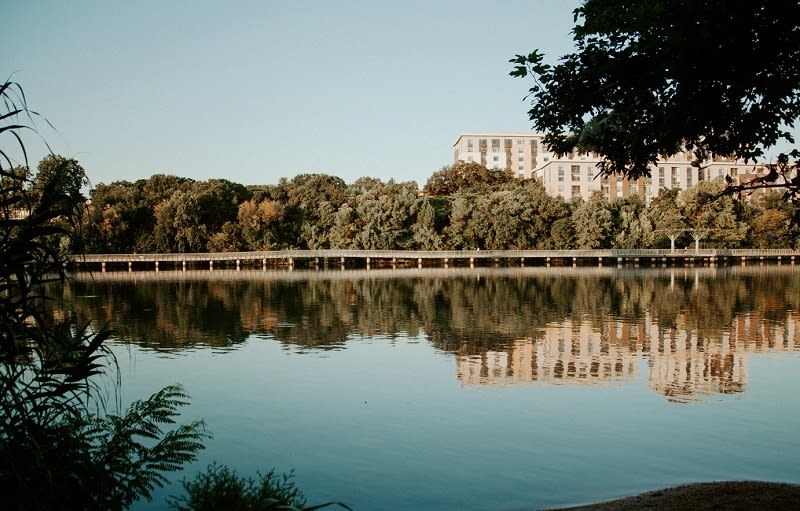 ◾ Secure a loan early: Waterfront properties are typically more expensive than other homes, so loans for these properties fall into the jumbo mortgage category. You must be an extremely qualified buyer for mortgage lenders to consider aiding you. Begin the loan process before even checking out waterfront homes, as this could be a lengthy process.

◾ Look into home insurance: Given the higher price points of waterfront homes, understanding the cost of insuring your property is crucial. An insurance professional and your real estate agent will give you a general quote on how much insurance will cost.

◾ Look into utilities: The city conveniences you may be acclimated to — like electricity, an adequate septic system, clean water, cable, and Internet — may not be readily available at the waterfront property. Buyers must understand that these amenities may not be set up, and they will need to front the cost to acquire these services. These utilities could be expensive, so be sure to look into getting them before buying a property.

◾ Understand your responsibilities: When it comes to home maintenance, you have greater responsibilities as a waterfront homeowner. Read the conditions, restrictions, and covenants and speak with your HOA's management company. The development history of the land should also be closely examined, and this info is attainable via local government resources. Luckily, an experienced realtor can vet a property and its history to better inform what responsibilities you may encounter.

◾ Consider drought and weather impact: A primary consideration when purchasing waterfront property is the potential impact of drought and weather. Water quality and availability is a critical issue, so you may need to install water softening equipment to avoid these problems. Do your homework about historical water levels to better understand how the river affecting your property fared in floods and droughts. When it comes to weather, you'll need to take extra measures to protect the home, as waterfront homes are exposed to more significant weather damage.
Waterfront Property Benefits


Waterfront property is the gift that keeps on giving. The beautiful views, tranquil surroundings, and great activities are just a few of the offerings you can relish while living on the waterfront. Here are some of the enticing advantages of waterfront living:
◾ Tranquil environment: Waterfront properties tend to be distanced from other homes, meaning you can enjoy a significant level of privacy. You won't miss the traffic noise, pollution, and other disturbances you'd typically experience with city living. You'll be able to breathe fresh air deeply, savoring the peaceful environment of your home.

◾ Stunning views: The panoramic view you get from your home is one of the top benefits. Sitting on your porch and watching the sunrise and sunset are incredible additions to your quality of life.

◾ Aquatic recreation: Whether you enjoy boating, kayaking, paddle boarding, jet skiing, fishing, or something else, water sports are easily accessible if you have a boat dock and live right on the water. You can even dock your boat just steps from your door! There are several fun restaurants on the lake. Ski Shores, Abels on the Lake and Hula Hut are among my favorites. You can even cruise and get morning coffee and a breakfast taco at Motzarts. My family and I especially love wake surfing. We try to hit the water at least once a week. The water stays fairly warm so we can tube with the kids and surf almost year round!

◾ Excellent investment: Waterfront homes hold significant investment value. While these properties can be challenging to find, they retain their high value well. If you someday plan to move away, you can use the home as a rental property. The investment will be significant at first, but the return on investment (ROI) is a major asset. As I tell my clients often, with only 22 miles of shoreline, there is a limited supply and they can't make more of it!

◾ Health benefits: The stress relief from spending time near the water is a dream come true. Being a lengthy distance from city noise and traffic is such a pleasure. Listening to the water's movement with the breezes, breathing the fresh air, waking up to the calming water, and simply reveling in your surroundings are benefits you simply cannot put a price tag on.
As you can see, there are many things to consider before purchasing a waterfront property. The Highland Lakes offer an array of fabulous amenities and activities that residents love.

When you are ready to undertake the venture of finding your ideal lake house on Lake Travis, Lake Austin or surrounding areas lets talk. My family has lived on the water for years and I understand the lifestyle and its idiosyncrasies. We can view Lake Austin waterfront properties by car and especially by boat!