On average, in Austin, Texas, residents can enjoy 228 days of sun annually — that's 20 more than the national average. Barton Creek and Lake Travis are two luxe Austin suburbs perfect for basking in that sunshine. Whether you invested in Barton Creek real estate to enjoy the weather or it's simply a bonus, it's certainly worth trying to get the most from your backyard space.
These are our top tips for entertaining outdoors and making the most of this beautiful Texas weather. Follow these suggestions to turn your home into a backyard oasis ready for any party.
#1: Consider shade
Texas is beautiful, and so much of the weather in Austin during the traditionally cooler months is perfect. However, the summer — those definitely warmer months — can be exceptionally hot, and even the most beautiful Lake Travis homes may need a little help to keep outdoor entertaining cool.
Consider setting up a sunshade, custom canopy top, or even an extra-large umbrella to keep your outdoor space cooler in the summer months. Building a pergola is a more permanent solution, but it can add value to your Barton Creek real estate property and still lets in some sun without being overbearing.
#2: Know your weather and wind
Austin can get windy! If you're trying to spend an afternoon outdoors during a windy period, consider using
tablecloth weights
to keep your tablecloths from fluttering away. While running through the backyards of Lake Travis homes chasing down a favorite tablecloth is certainly one way to meet the neighbors, it's probably not your preferred method.
When setting your outdoor table, make sure your dinnerware is heavy enough to stand up to the weather and napkins are tucked under dishes, not just sitting out.
#3: Comfortable seating is a must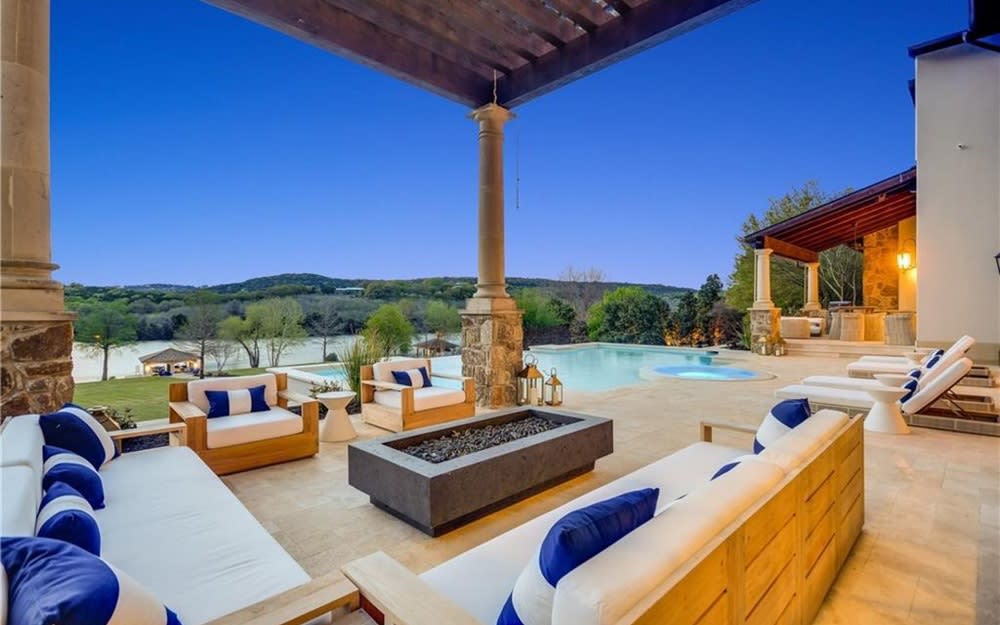 You and your guests probably won't want to sit on hard, uncomfortable patio chairs for hours at a time. Don't do your Barton Creek real estate a disservice by offering uncomfortable seating. Thick, plush cushions are a must to ensure that your guests have the best experience possible. They can also be a great way to add pops of color to the outdoor area.
#4: Rugs add warmth and a homey touch
Photo Courtesy of Real Simple
Just because you are outside doesn't mean you have to sink your toes into grass or burn your feet on a hot patio. Most Lake Travis homes have outdoor areas that will heat up quickly in the sun and cool off fast in the shade. Furnishing those areas with a
quality indoor-outdoor rug
is going to add color, texture,
and
utility to your outdoor spaces.
When choosing the perfect rug for your Barton Creek real estate, consider the size, placement, and color. You may fall in love with that vibrant green rug, but if all your furniture is red and tan, it's not going to match well. If the rug is too small for your space, you won't get real utility out of it.
Remember that rugs can be used on grass, too! If you want to expand the area where guests can comfortably sit and linger, a rug under additional tables and chairs on the grass is a perfect solution.
#5: A stocked bar cart is your best friend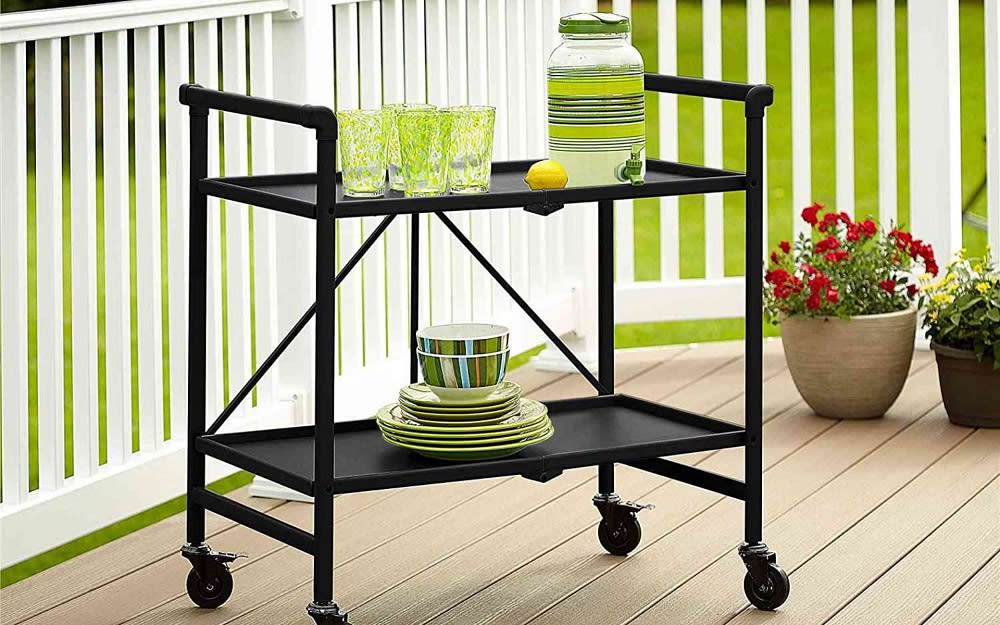 Photo Courtesy of The Spruce Eats
A great addition to your space is a
cool, vintage bar cart
, which you can likely find inexpensively at a consignment or upcycle shop. While some Lake Travis homes have an outdoor kitchen, you don't need one to enjoy a bar outdoors. A bar cart can easily be used outside on a deck or patio and provide you with fantastic value.
The perfect bar cart should be stocked with bar essentials: garnishes like lemon and lime wedges, extra soda water, basic liquors, and wine, and glassware. A small ice bucket with tongs will complete the set.
#6: Set up great music
Quiet, steady background music can really set the mood for an excellent party or get-together. Though you should always be polite to your Barton Creek real estate neighbors, a good sound system can really elevate an outdoor party. It also is easier than ever to set up a quality, waterproof sound system in your backyard.
The simplest option is to get a waterproof Bluetooth speaker you can transport inside and out when needed. If your Lake Travis home has a smaller backyard area or you usually entertain small groups of people, this will likely work just fine for you.
Another option is permanent speakers with a wireless audio adapter. These sound better and last longer than their portable counterparts, but they offer less flexibility. Consider using a swivel mount so that your sound can reach a wider area of your backyard.
#7: Cold food should stay cold
To provide lasting chill for your food, fill a large bowl with ice and top it with kosher salt before placing any perishable food or dips inside. The salt is essential as it can help keep your ice colder for longer. Keep an eye on it throughout your party and replace it as necessary. This is a great option for anyone without an outdoor fridge or not wanting to make constant trips into the house to keep things cool.
Ready to settle into your own home and set up your dream backyard? If you're not yet part of the Barton Creek real estate community but you'd like to be, reach out to the
Kathryn Scarborough Real Estate Group
today. Kathryn and her team have worked in Austin for years and have experience with some of the most beautiful Barton Creek and Lake Travis homes on the market. You're in good hands and you'll be entertaining in your own backyard before you know it.