Boating on Lake Austin & Lake Travis
What better way to enjoy the Austin waterfront than by getting into the water itself? If you want to create lasting memories with loved ones while gliding across Lake Travis and Lake Austin, rent a boat for the day. There are several companies providing boat rentals and friendly staff to ensure you have a fun and safe voyage.
Float On offers new boats, great rates, and professional staff to ensure you and your crew embark on an exciting voyage on either of the lakes. Get a group of your best friends together for a small BYOB sunset boat tour to celebrate life's special moments, indulge in a luxuriant day of sailing, or book a pontoon rental for your next corporate event.
To take things up a notch, have an exclusive lake party complete with a state-of-the-art sound system, wakeboards, and surfboards with the help of ATX Boat Rentals. This service is great for company outings, wake surf lessons, sunset cruises, bachelorette parties, and other exciting events.
For those looking for a colossal party barge for a birthday bash or engagement party, VIP Marina Lake Travis has you covered. Their party barges will impress your party of up to seventy with their helpful staff and excellent amenities. Sit back, relax, and enjoy the stress-free voyage with stunning hilly terrain, towering trees, and a peaceful lake surrounding you. No matter the occasion or size of your party, a day of boating with good friends and a cooler full of beers is an excellent way to take advantage of living in Austin.
Watersports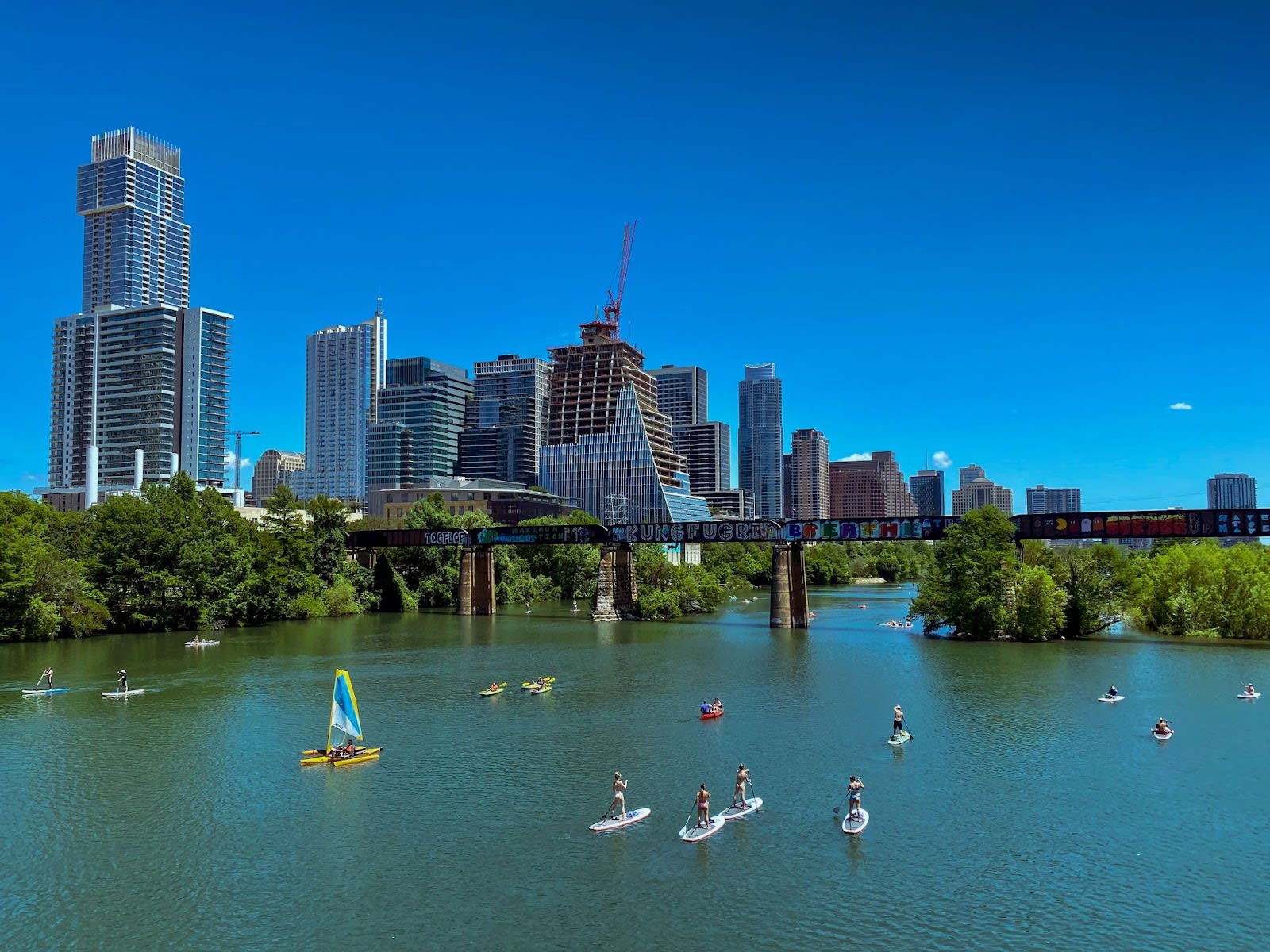 A smooth sailboat trip is not the only way to enjoy Austin's many bodies of water. Adventure seekers who like to combine exercise with a day out on the water will love the array of watersports available in Austin. The Texas Rowing Center is Austin's premier destination for rowboats, kayak, canoe, and stand-up paddleboard (SUP) rentals. Take a tandem kayak out for you and your sweetheart and make your way across Lady Bird Lake, enjoying sweeping views of nature along the way. You also have the option to climb atop a SUP and experience the peaceful water at a slower, more relaxed pace.
Your kids will love canoeing, especially since the family dog can tag along! This kid and dog-friendly company provide more than just rentals — it also organizes lessons, courses, and watersports camps for your little ones. In addition to Texas Rowing Center, Austin Paddle Board Bonanza rents out inflatable SUPs and Austin Paddle Shack offers kayak and paddleboard rentals, tours, and more.
Thrillseekers looking for more than traditional boats and paddleboards can skip the SUPs and go right for the jet skis. Austin Jet Ski Rental is perfect for adrenaline junkies and lake goers alike with complimentary beach lounges with an optional grilling service.
For an all-inclusive company that rents out boats, party barges, kayaks, and paddleboards, call Rivera Marina. A relaxing paddle on the water or a boating trip with a jet ski to boot, Rivera Marina can accommodate a variety of water-related activities. If you're looking for a new way to experience the water, whether it be a serene SUP ride, a challenging canoe journey, or an exhilarating ride on a jet ski, Austin offers its residents numerous watersports to enjoy in the heart of their town.
Lake Travis Waterloo Adventures
Credit: Groupon
If you yearn to get out on the lake, chances are you've done your share of floating atop the tranquil water via boats and kayaks. But have you ever experienced a floating water park before? Lake Travis Waterloo Adventures is where families go when the weather is hot and they want a fun way to escape the Austin summer heat.
This one-of-a-kind lake experience is a mere thirty minutes from Austin and features a floating water park, obstacle course, and a private island getaway that will keep your family entertained all day. Located on Lake Austin, this day trip destination features a 600-foot challenge course and a plethora of resort-style amenities on Adventure Island, including two football fields worth of floating obstacles, lakefront umbrellas, chaise lounges, hammocks, floating picnic tables, and more.
While your kids are laughing and having a blast on the courses, parents can stay ashore and enjoy delicious meals from food trucks while sipping ice-cold beer and frozen drinks. This sensational water park is perfect for family outings, private parties, and team building. Book your kid's next birthday party at Lake Travis Waterloo Adventures to ensure they smile from ear to ear and remember the special day for years to come.
Lake Travis Zipline Adventures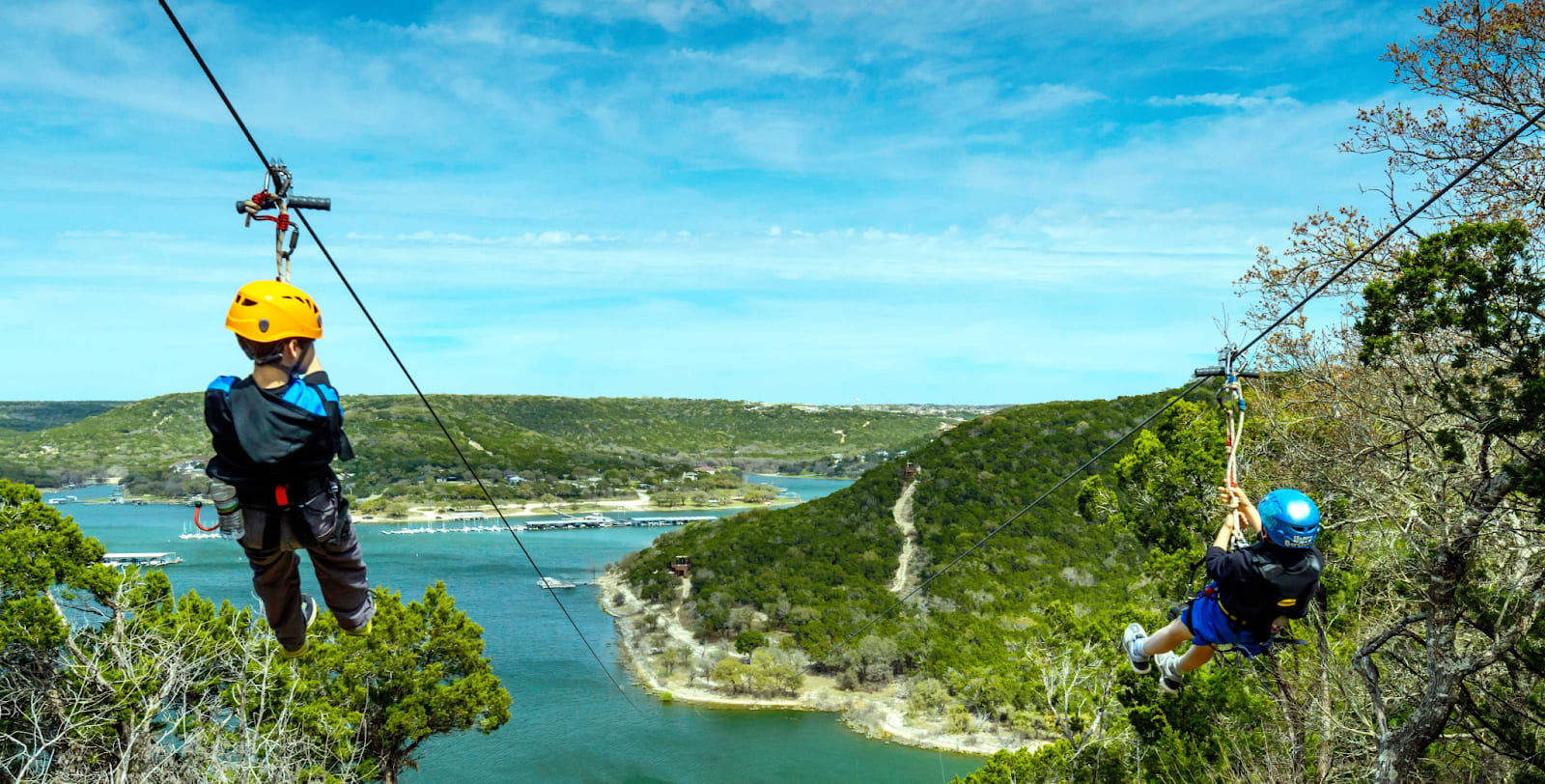 Credit: Lake Travis Zipline Adventures
Get a bird's-eye view of the area with Lake Travis Zipline Adventures. Between each ride, you'll relish spectacular views of Lake Travis and the sublime canyons of Texas Hill Country. A professionally trained tour guide will show you the ropes as you trek through challenging hikes and nature walks as they teach you about the rich ecology and culture of the region. The unforgettable experience climaxes with you launching off a cliff twenty stories high and soaring over 2,800 feet across beautiful Lake Travis. LTZA offers five zip lines, three of which are the longest and fastest ziplines in Texas! If you want to let your inner daredevil out and see the lake in a new light, book your ziplining excursion with Lake Travis Zipline Adventures today.
Beachside Billy's Restaurant & Water Park
Next time you and your family are in need of a getaway on a hot Austin day, head to Beachside Billy's Restaurant & Water Park. Located at Volente Beach Resort, Beachside Billy's offers a broad range of thrilling rides the whole family will enjoy. Your kids will romp around the Pirate Ship play area before heading to Gator's Crossing to leap from one float to the next as they make their way across. Those looking for a rush must take a trip on the fast-paced ride, the Sidewinder. Laughs and splashes abound in the children's only pool, while parents take a load off in their own pool complete with a swim-up tiki bar.
Once your crew has worked up an appetite via the rides, play areas, volleyball courts, and sandy beachfront, fuel up at Beachside Billy's upscale casual restaurant, specializing in hand-cut steaks and fresh seafood, or you can bring a picnic to enjoy with the family on the sand if you prefer. Beachside Billy's is accessible by boat as well, elevating the nautical experience of this establishment.
Waterfront Lake Travis Pub Crawl
Lake Travis has seven excellent restaurants and pubs accessible by boat. It might be too packed of an itinerary to hit all locations in one day, but it's easy to have a fun time with close friends by grabbing food at one, drinks at the next, and ending the evening with live music available at most of the venues.
Pull up to Shack 512 via the courtesy dock and take the short ramp stroll to the restaurant. This American/Southern-style eatery features a seating area elevated over the water, stunning panoramic views of Lake Travis and the surrounding hills, tasty bar fare, cold brews, and signature cocktails. For a relaxed, bistro dining experience stop by Sundancer Grill at Sail & Ski Yacht Club on Lake Travis. Chef-crafted dishes, weekend brunch, a fabulous happy hour, and beautiful lake vistas define this spot. Bring a couple of friends and catch up over crab hush puppies and Lake Travis Tea, prepared with Deep Eddy Sweet Tea Vodka, peach schnapps, and lemonade. Lakeway Resort & Spa's own TR Restaurant & Bar Lounge is a fantastic full-service restaurant serving Southern comfort cuisine and cocktails made with local ingredients. This is a perfect spot to savor steak and eggs for breakfast with a side of spectacular Lake Travis views. Check out the entire Lake Travis pub crawl list for info on all seven waterfront venues.
Austinites flock to Lake Travis and Lake Austin for endless fun in the sun. If you're ready to become an Austinite and are seeking Westlake real estate or Lake Travis homes for sale, contact the Kathryn Scarborough Real Estate Group today. Kathryn is a fifth-generation Austinite who will guide you through an optimal real estate transaction with in-depth regional knowledge, professionalism, and unwavering integrity.