Westlake Hills is a quiet but luxurious area of West Austin, Texas. Many of the available Westlake houses for sale are beautifully updated, but then again, a kitchen can always be improved upon. From new appliances to novel designs and updated finishes, the possibilities of a Westlake Hills kitchen are limited only by your imagination. Here are half a dozen kitchen upgrades that can add style, convenience, and value to Westlake homes for sale:
Kitchen island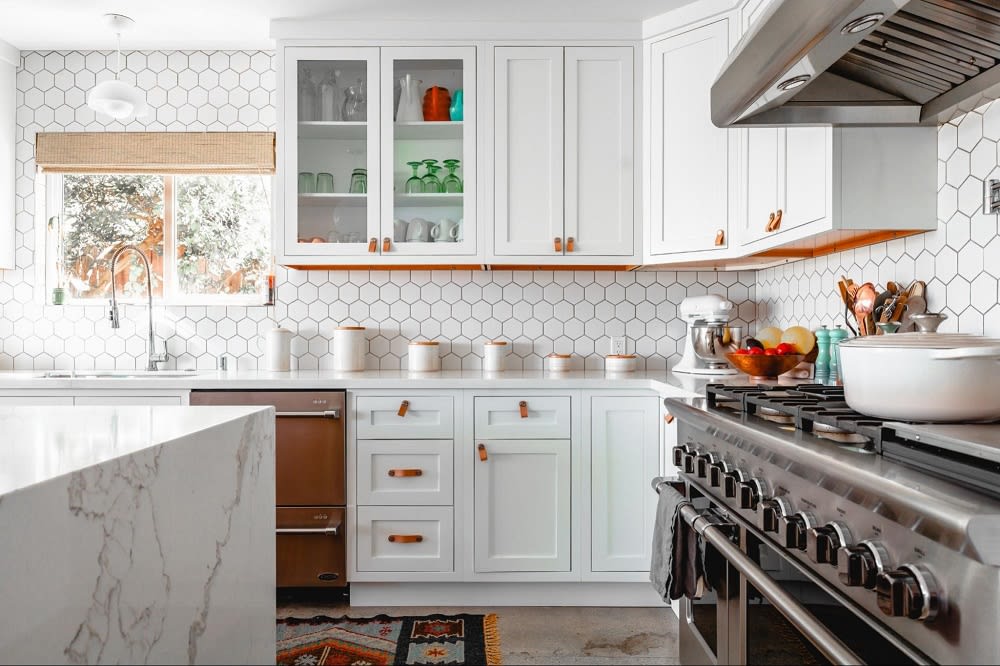 Photo courtesy of Unsplash

Kitchen islands never go out of style. A kitchen island provides a great way to add countertop space or an additional sink. For those who snag a Westlake home that already has this feature, there is still the option to update the countertop with a variety of lavish materials, from marble to hardwood. To really enhance an island, consider upgrading it to a sturdy hardwood bar, complete with matching stools.

For homes with narrower kitchens, there is still hope. It may be possible to expand or remodel the kitchen in a way that allows space for that chic kitchen island. For example, a wall in the kitchen could be removed to add an island where there was previously only a countertop. This would open up the kitchen for a more spacious design.
New countertops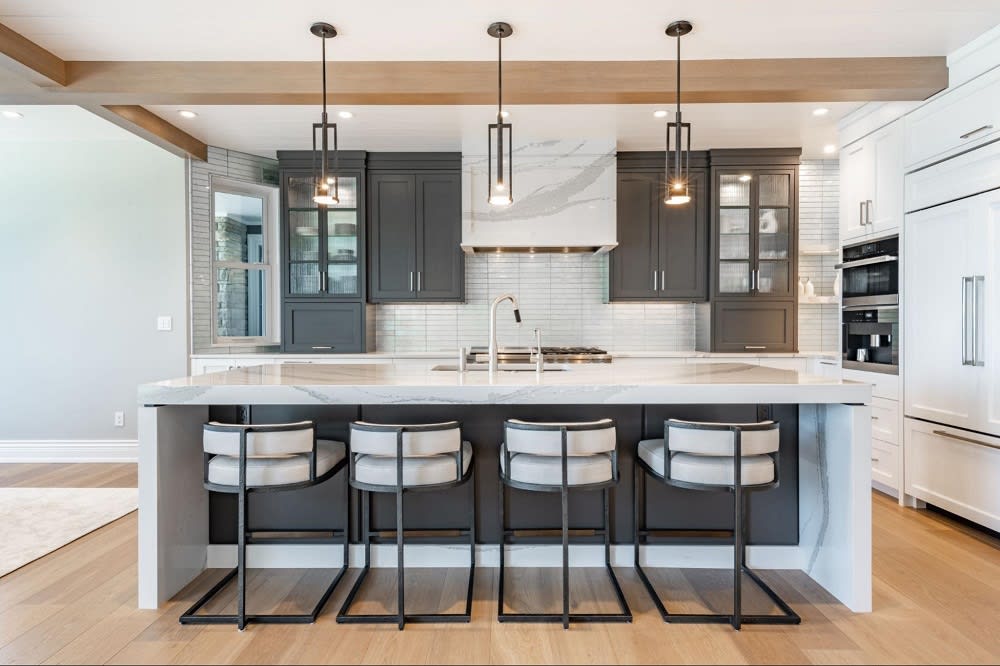 Photo courtesy of Shutterstock

To go with that nice kitchen island, new countertops are essential. The construction of the counters can be altered or left the same in the process. This is a simple upgrade that can make the whole kitchen feel new. Countertops come in a variety of materials, colors, and finishes. Different surfaces offer different benefits, both to the design and function. The latest kitchen countertop emerging trends are:
Quartz is king. This non-porous kitchen countertop is extremely low maintenance and resistant to bacteria, stains, heat, and scratches. Austin Granite Direct has a stunning collection of gorgeous granite, marble, and quartz.


You will also have to choose your finish. No shine with a honed or matte finish is gaining popularity in new kitchen designs.


Colored countertops create a vibrant setting, brighten up your kitchen, and add contrast.


Natural materials like wood, slate, or marble can really complement the design of a modern kitchen. Also, they fit perfectly into the atmosphere of rolling Texas hills that you will find in Westlake.
Updated appliances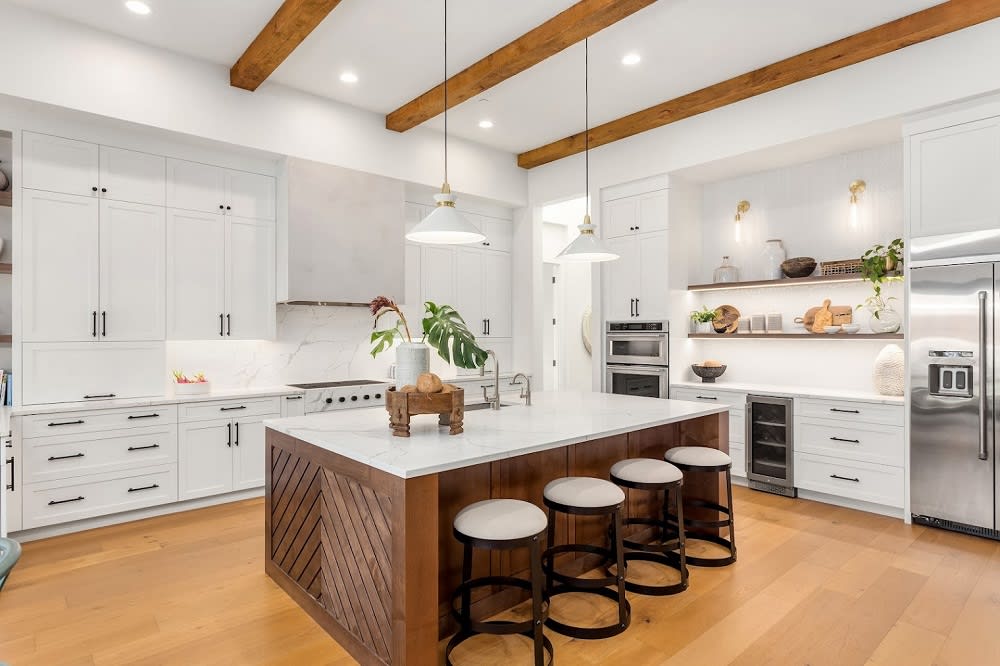 Photo courtesy of Shutterstock

For those who love modern technology, smart appliances are getting more innovative and increasingly popular. Smart appliances are integrated with sensor technology and the internet and can be operated from your phone. They provide real-time digital information like temperature and humidity. These innovative appliances are making our lives more connected and convenient, from smart fridges that help with grocery shopping to voice-activated kitchen faucets that can fill water at a specified right temperature.
Tile walls and mosaics
Even a high-end Westlake kitchen that already has the upgrades listed above can be topped off with a nice addition of tile on the walls. Tile can be decorative, but it can also be practical. Many kinds of tiles are non-porous, easy to clean, and fairly heat tolerant. Try looking online, scrolling through a catalog, or even just stopping in a store to get a feel for the possibilities. The theme can complement or match the island and countertops, or it can create stunning contrast by introducing a new design element to the mix. Go minimalist with a solid color design, consider getting creative with some geometric designs, or even include a colorful mosaic over the stove.
Bars
Bars are an elegant and classic feature of a kitchen. For a bar positioned against a wall, there is the option to have a full back bar. An overhead canopy is another component that can be added for a complete bar set. Check out some of the work by Texas craftsman
Dale Hood
for an idea of what this looks like. For a simpler approach, a bar window can be an easy but fancy addition to a beautiful Westlake Hills kitchen. Knocking down or cutting through a wall is always a fun part of renovating a home. In particular, owners of Westlake homes will undoubtedly enjoy the open and spacious feel. Often, the walls of a house are easily amenable to alterations of this kind.
For those Westlake houses that require more renovations, consider converting the kitchen island into a bar. These two design ideas can be blended. Bars, like other counter surfaces, can be fashioned from a variety of materials. For homes with a complimentary design scheme, a nice, rugged piece of hardwood can be a great option to allow for a more rustic feel, even within the luxury that Westlake homes for sale offer. You can even obtain a Texas-grown slab of spalted pecan from
Texas Pecan Wood
. As an added bonus, matching stools or bar seats can add comfort and style to a well-designed bar.
New flooring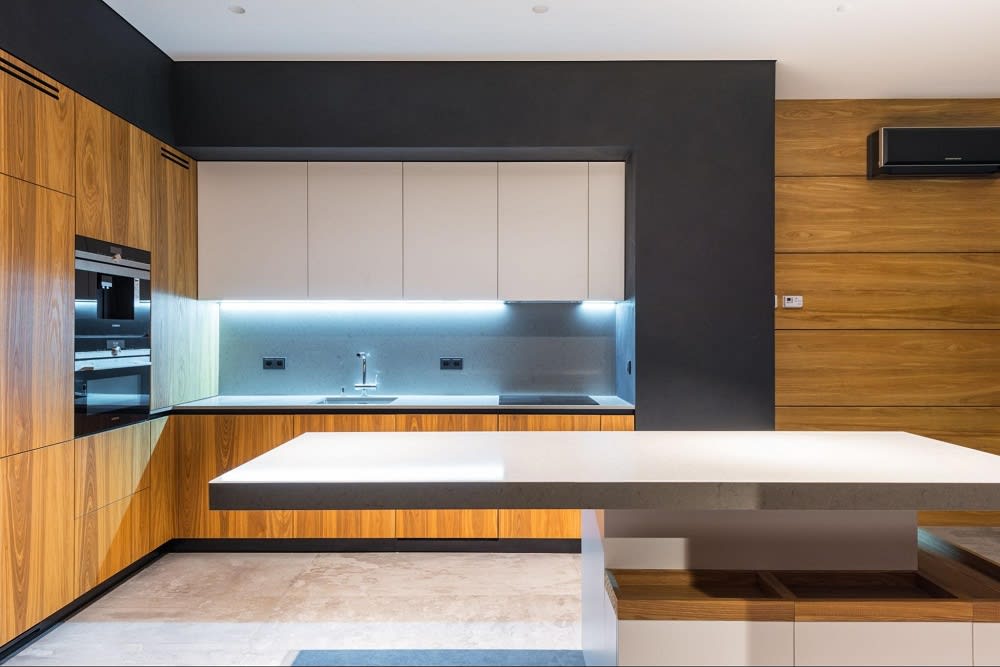 Floors are an easily replaceable part of a home. Today's Westlake homeowners have an impressive variety of flooring options, especially for the kitchen. You can go traditional with a nice tile floor but keep it modern with some of the latest cuts and styles. For a uniquely striking and durable design, consider stone flooring. Just like marble, there are all sorts of options for the color, texture, and design of stone floors. As a finishing touch, small rugs or mats for the sink area can be a nice accent to complement the flooring.
Getting started on a Westlake Hills kitchen
All of the above ideas can enhance the design of a kitchen and add value to Westlake houses for sale. Before altering a Westlake Hills kitchen, it is important to choose a theme or at least get some general design ideas. Kitchens can look more traditional or more modern, and they can either lean toward a rugged natural look or a finished, modern look. For flooring and wall tiles, geometric patterns can pull the design together with a neat and coherent look. Materials are an important part of overall design considerations.
If you want to upgrade your kitchen to get the most return on your sale, contact local real estate agent
Kathryn Scarborough
. She's highly experienced in preparing Westlake homes for sale and will guide you through the buying and selling process.

*Header photo courtesy of Shutterstock