Lake Austin and Lake Travis are coveted destinations for luxury waterfront properties. Austin, already one of the best places to live in the country, draws people from all over craving a luxurious lifestyle. The current real estate market is moving quickly, and rates and fees are starting to rise, but the need for these homes isn't slowing down. In the past, demand for Westlake Austin homes for sale has been high even when the market is slower elsewhere.


If you plan to sell your waterfront home in Austin, you want to get as much out of your investment as possible. Here's a guide to help you accomplish your goal and sell your waterfront home for top dollar.
Make necessary repairs
It might seem like it goes without saying, but we have been experiencing a hot seller's market for the last two years, and homeowners wonder if they
really
need to put money into their homes before selling. If you're hoping to get top dollar for your home, the answer is yes!
Repairs
need to be made, as potential buyers will not offer top dollar on a home when they need to make repairs as soon as they move in.
When it comes to upgrades, though, you might be able to get by without tackling a few of the major ones, which depends on your home's current condition and aesthetic. If you are unsure, talk with me, and I can provide the numbers that will help you make your decision. The basic rule of thumb is this: if the lack of an upgrade will turn buyers away, you should make the upgrade.
Make a clear path to the water—and the view
People buy waterfront property to enjoy the water and the view. They want the dream of waking up every morning to watch the sunrise over the water, and they'd like to spend evenings watching the sun sink below the horizon. The view is usually the best feature of waterfront property, and it's the feature that will never change.


Show off the view — clear anything that obstructs the landscape, whether it is tree limbs in need of pruning or lawn furniture in the way. Also, be sure to have your
windows cleaned
. The goal is to have a potential buyer walk in and immediately fall in love with the view. Make your pristine waterfront view work to your advantage.
Stage the waterfront
You are selling more than a piece of real estate — you're selling a lifestyle! Make sure homebuyers get a sense of what life could be like by
staging
your waterfront area. Put some Adirondack chairs in the perfect spot to watch the sunrise. Display your boat, jet skis, and other water-side equipment to encourage inspiration from your potential buyers. If you don't already have one, add a rack on the dock where you can hang a couple of fishing poles. There are so many activities to experience when living a waterfront lifestyle — be sure to showcase them all when staging your property.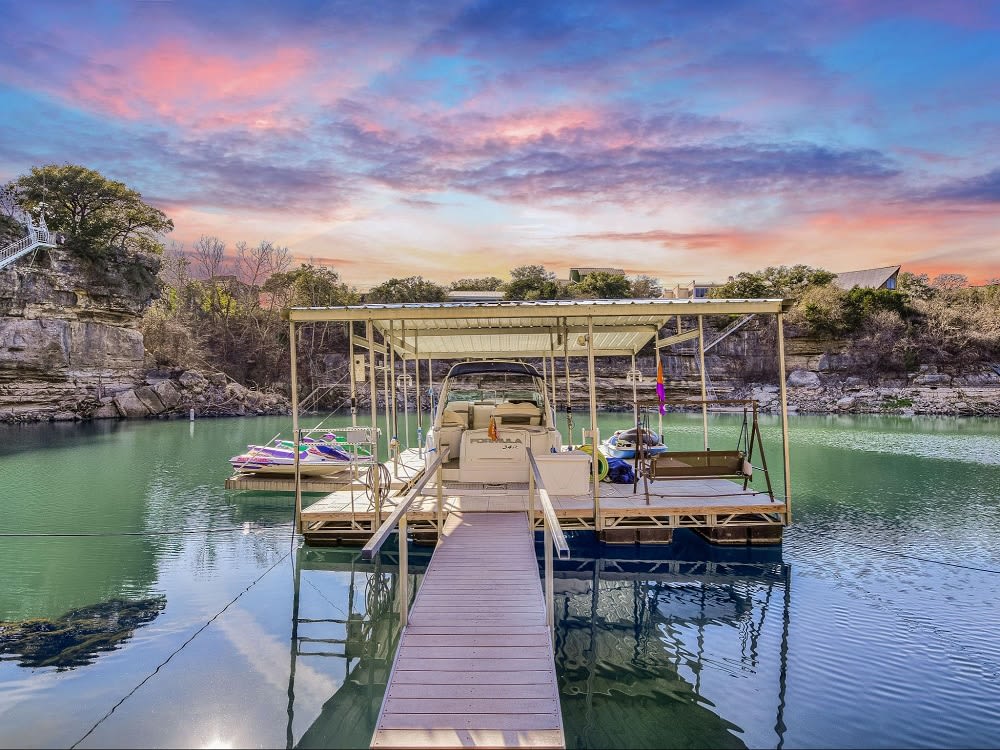 Use drone footage
After your home is properly staged, hire a professional photographer and
videographer
to film the area. People will see your home online first, and they may not be familiar with the neighborhood. Drone footage is an excellent way to market your property, as it's the easiest (and most beautiful) way to capture your space in all its waterfront glory. Consider adding this special feature to your home's listing so potential buyers can get an authentic feel of all your property affords. Video tells the story of your home — make sure to use it well!
Promote the lifestyle
Because homebuyers will see your property online first, you should start selling the lifestyle right away. The videos you take of the property will be a big part of that. Include lifestyle talking points in your descriptions, social media posts, and other marketing materials. Make sure you mention the dock and water access available from your property. Include the water activities, like fishing, swimming, boating, whether or not it is a wake-free zone, etc.
Be honest and transparent
If your land experienced a
flood
, it's on the public record and easily accessible for potential buyers, so be transparent in your listing. If you had a flood, disclose what happened and the steps you took to fix the damage. Then the home buyer will have some assurance about being protected against future flooding.
Be clear about the water rights and property lines of the home. If you are responsible for maintaining bulkheads, this also needs to be disclosed. Let the homebuyer know they can trust you, and they are more likely to work with you than other sellers of Lake Austin or Lake Travis homes.
Work with a waterfront expert
Many details make selling luxury homes in Westlake, TX, unique. As a waterfront specialist, I have a deep understanding of each component instrumental in selling waterfront property and am experienced in pricing these properties accordingly. I know how to select the best price for your home — the price that has the best chance of getting multiple offers and driving your final selling price upward.


The agents of the
Kathryn Scarborough Real Estate Group
are waterfront specialists who will happily answer your questions about buying and selling property in Austin. They have years of experience selling luxury real estate — in fact, Kathryn sold the most expensive house on the market
ever
! Contact the Kathryn Scarborough Real Estate Group to start your next real estate journey in Texas.