Did you know that the kitchen is one of the most utilized and important rooms in the home? Not to mention, it is the first room a potential home buyer will notice. According to data collected by
Forbes
, the two most scrutinized rooms by potential home buyers are the kitchen and the primary bathroom. It makes sense that the room where you are likely to spend most of your time at home is also the room that can make or break a sale. If you are considering a kitchen upgrade, it's a worthwhile investment not only for your own enjoyment of the kitchen space, but for the return it will bring when it comes time to list your home among other Westlake homes for sale.
Are you looking to upgrade your kitchen this year? Perhaps you're scouring Austin homes, hoping to find a fixer-upper in need of a kitchen upgrade. Though pandemic restrictions have eased somewhat, many people are still working from home. This means the home kitchen continues to be an integral part of daily life and often has use as a multifunctional space. Whether you're searching for Austin homes for sale in hopes of remodeling your new space or simply looking to make updates to your existing kitchen, you're in the right place. Make your kitchen one of your favorite rooms in the home with these five kitchen upgrades.
High-tech appliances
Tech has become a huge part of our everyday life. From our alarm's first ring, we check notifications on our phones, log into our email to answer a quick question, and push a button to start up the coffee pot. It makes sense then that tech continues to be a part of our home life as well. Those looking to remodel their kitchen in 2022 should seriously consider the tech they incorporate into the kitchen.
Statement-worthy countertops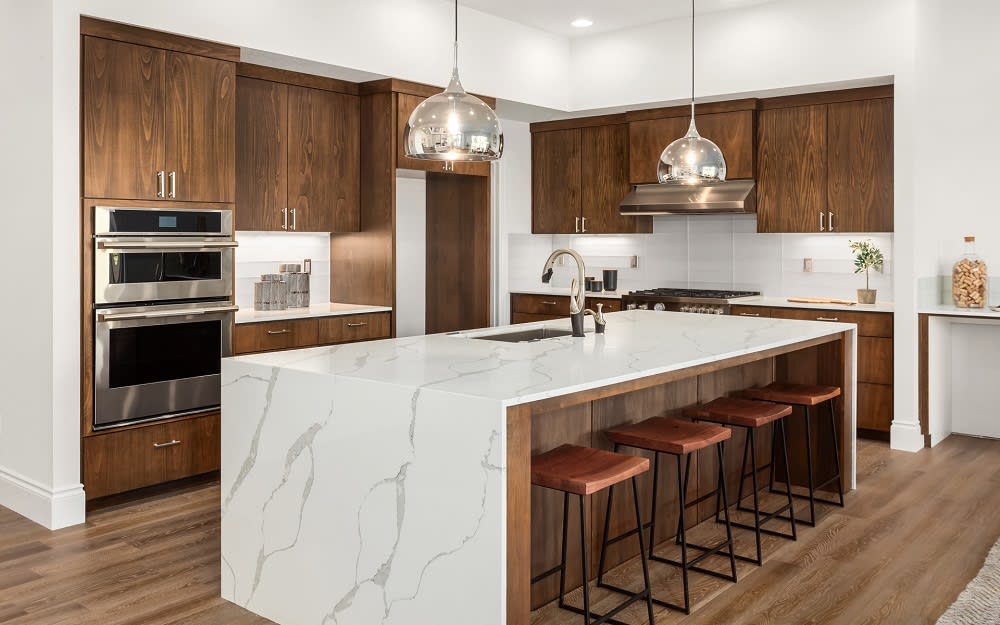 Take a break from your Austin homes for sale search to scour counter samples at your local hardware store. 2022 is all about countertops that make a statement. In fact,
many homeowners choosing to remodel in 2022
are opting for bolder countertops with "more splashy veined marbles and quartzites."
More than one-third
of remodelers are choosing to splurge on countertops, with granite and quartz being among the most popular stones for kitchen counters.
Custom organization
This year, it's all about function and style when it comes to cabinets and pantry organization in the home. The post-pandemic family is still spending ample time at home. Spaces that were once dedicated to only one function now have to multitask — perhaps serving as a kitchen, office, and classroom in one. This means that organization is key.


If you are looking for an Austin or Barton Creek home for sale in hopes of finding a kitchen space more suited to the new ways in which we live and work, consider upgrading your space with custom organization. Do you have a dedicated space for every item in your kitchen? An organized space can make cooking, cleaning, and working in the same space a much more comfortable endeavor.
Play with color and pattern
The design style of the last few years has taken a less-is-more approach of crisp, white minimalism. If this is your vibe, rest assured that it will always be in style. However, if your days working from home have seen your space turn into a slightly crowded, maximalist haven, you're in luck. The design motto of 2022 takes from the more-is-more approach to color, pattern, and collectibles. If you are looking to inject some color into your kitchen, look at painting the cabinetry a funky color, adding patterned wallpaper, or creating a bold backsplash.
Cabinetry
According to
Real Simple
, 64 percent of home remodelers in 2021 and 2022 opted for Shaker-style cabinets. These cabinets display clean lines and a boxy style that affords homeowners ample storage space and large swinging doors. To take your cabinet game up a notch in 2022, consider choosing colorful cabinets or adding a fresh coat of paint to your existing cabinets to bring them into the modern age.
Upgrading your kitchen is no small task. As one of the most used rooms in the home and the most scrutinized by potential home buyers, it is a space that is in constant need of attention. Whether you plan to completely gut and replace your kitchen or simply add a fresh coat of paint to the walls and cabinets, you will be ready to remodel in style with these six stylish kitchen upgrades. Gone are the crisp, all-white finishes of the last several years. In 2022, remodelers are getting bolder and more colorful, opting for high-tech appliances, and creating custom organization pieces that make life at home much easier.
Searching for Westlake, Austin, homes for sale?
The team at
Kathryn Scarborough Real Estate Group
will help you find the perfect home in perfect home among other Barton Creek and Westlake homes for sale. Save yourself the hassle of the home search by reaching out to Kathryn and her team today. With the help of a professional, you'll have more time to refine the design elements you're after in your new home.
Contact Kathryn and her team today
.