Austin's homeowners benefit from the mix of a steady job market, terrific culture and entertainment, numerous outdoor attractions, and some of Texas' best residential neighborhoods. There has been an influx of new residents moving to the greater Austin metropolitan area over the past few years, as people leave crowded west coast cities with high taxes (and even higher real estate prices) for this large, but comfortable city of 950,000.

Of course, this shift has led to a spike in Austin's housing prices, but many neighborhoods and suburbs of Austin are still much more affordable than the coastal real estate markets throughout the U.S.

For Austin buyers who can afford more luxurious homes, the city has a great variety of gated communities within reach of downtown, including the prestigious neighborhood of Barton Creek. This suburb's gated communities are located in the beautiful rolling hills just west of Downtown Austin, and offer the market's best amenities in terms of location, security, and lifestyle. The larger gated communities in West Lake Hills each offer swimming pools, tennis courts, and clubhouses for the convenience and enjoyment of residents.

Among the outstanding gated communities in Barton Creek are The Preserve at Barton Creek, Governors Hill, Amarra Villas, WatersMark, and the Foothills of Barton Creek. While the homes in these developments are secluded and protected, they are still just a short drive away from all that the Austin area has to offer.


Gated communities in Barton Creek
The Preserve at Barton Creek
The Preserve at Barton Creek is a small, gated community, nestled in the 4,000-acre Barton Creek Habitat Preserve. The houses in the Preserve at Barton Creek were all custom-built on 1.2-acre lots, which provides plenty of space for professionally landscaped yards with swimming pools and outdoor kitchens.
Governors Hill
For spacious estates, look no further than Governors Hill. This enclave is nestled in Barton Creek, less than fifteen miles from Downtown Austin, and offers a quick commute to the heart of the city. Plus, residents are situated near Barton Creek Country Club with its robust array of amenities, including a world-class golf course, eleven tennis courts, and a top-of-the-line fitness center.
Amarra Villas
The twenty close-knit properties in Amarra Villas are an idyllic escape from the bustle of everyday life. In this twenty-acre tract, Amarra Villas are exclusive condominium units set against a lush landscape. Here, you'll find spacious floor plans, state-of-the-art appliances, oversized windows, marble countertops, and plentiful natural light. Calling Amarra Villas means you'll soak up all the benefits of condo living while maintaining the peace and privacy of single-family estates.
WatersMark
WatersMark is another luxury community that provides the best of Texas Hill Country living, just minutes from all of the urban delights of Austin. It enjoys a unique setting between the Fazio Foothills Golf Course and the bluffs overlooking Barton Creek (which winds through the area). The beautiful homes for sale in WatersMark are built to blend in with the natural settings. The development is located within the Omni Resorts Barton Creek, and Fazio Foothills is one of four golf courses adjacent to the community.
The Foothills of Barton Creek
The Foothills of Barton Creek is an exclusive community located just south of WatersMark, offering luxury homes on large lots. The community is surrounded by open hill country as well as the fairways of the nearby Fazio Canyons Golf Course. Just over eleven miles from downtown Austin, this tranquil community provides residents with a peaceful retreat from the bustle of the city without sacrificing the robust urban amenities Austin offers — from eclectic eateries and charming boutiques to world-class healthcare.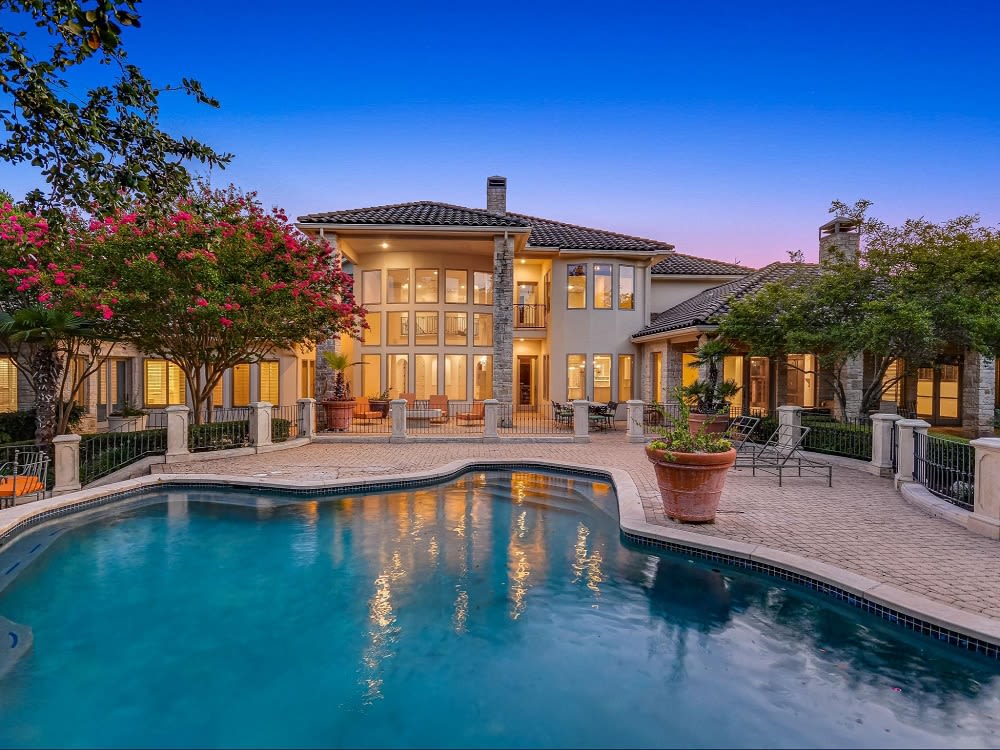 Credit: bartoncreekmembers.com
The importance of working with a local real estate agent
When beginning the search for your ideal home, the first thing you need to do is find an experienced and trustworthy local real estate agent to help you navigate the homebuying process. Start your research online, reading testimonials and sales data on agents' websites. Check with friends, co-workers, and other associates who have recently purchased homes in Barton Creek and ask if they'd recommend their agent.

Once you've hired an agent, describe the kind of home and neighborhood you would like to live in—accounting for your job, the need for good schools, and the proximity to dining, shopping, and recreation. Your agent should take all that into account when looking for homes for sale in Barton Creek.
Hunting for a home for sale in Barton Creek?
If you're interested in buying a home in one of Barton Creek's gated communities, let The Kathryn Scarborough Group put their extensive local expertise to work for you. As an Austin native with over 20 years of experience, Kathryn knows the real estate market in and around Austin and will make sure that you get all the information you need to find the perfect luxury home.