No other room in the house represents your personal space more than the primary bathroom. It is where you prepare to begin and end your day — it should be a space that is comfortable and rejuvenating. Your bathroom should reflect your personality and make you feel completely spoiled — like a day at the spa. When you transform your primary bathroom into a luxury bathroom, you will increase the value of your home. It will become a more desirable property compared to other Westlake Austin homes on the market.


Which renovations will stand the test of time and provide you with a bump in home value? There are so many options to choose from! You might start a remodeling project, thinking you will simply replace the vanity or the tile. Then somehow, you find yourself in a full bathroom remodel. These seven renovations will help transform your home and keep you on track.
A touch of marble
Natural finishes of all types are trending right now. They offer gorgeous, sustainable designs, whether wood, stone, or copper. For kitchens and bathrooms, though,
marble
is replacing tile. The large slabs can be used from floor to ceiling. The natural veining design in marble is like contemporary art — it offers movement and flow and is existentially organic.
The key to using large areas of marble is to provide balance. If the veining pattern makes a significant visual impact, you will want to balance it with smooth floors. If the veining pattern is subtle, you can bring it out by accentuating the color in other design elements in the room. Provide the right balance, and your home will be the home of choice among other West Lake Hills homes for sale.
Eye-catching Mosaic tiles
Maybe because of limited travel, people are craving elements in their home that evoke other countries and cultures. At the same time, people are shunning sterile environments in their homes. The perfect solution is a
mosaic tile
. The elegant detail is reminiscent of Spanish or Moroccan tiles, which are also popular. They often provide rich color and add beautiful depth with their intricate designs.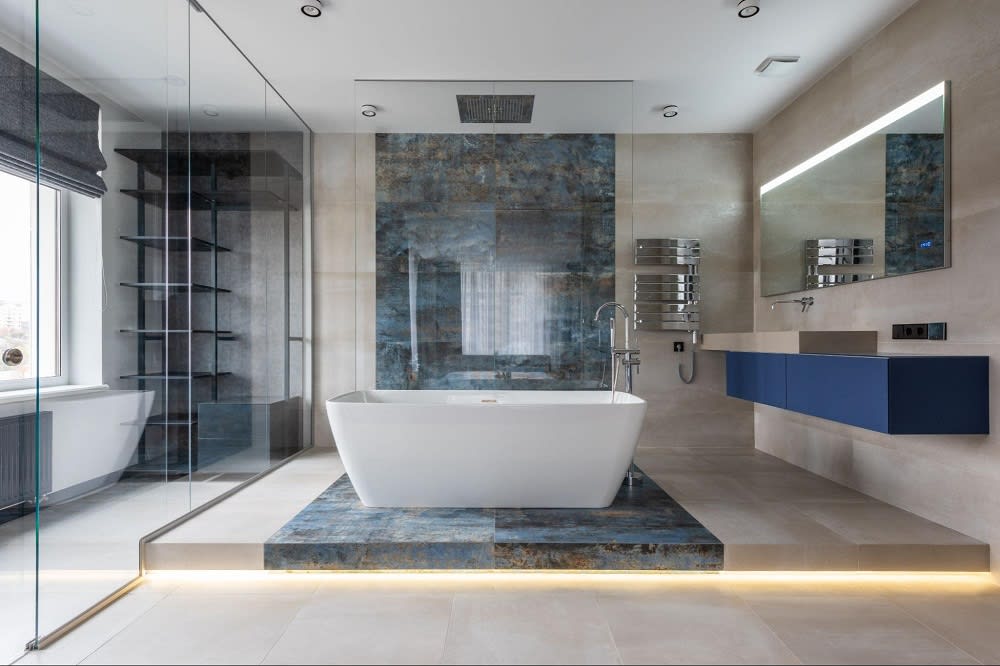 Use mosaic tiles on the floor to make the whole room feel vibrant and alive. Or use it as a backsplash to provide a rich pop of color. If you want to accentuate the shower, use mosaic tile to elevate the spa feeling of your shower or wet room. Wherever you choose to put this gorgeous tile, it will stand out among other Austin homes for sale.
Frameless shower
Frameless shower doors
work similarly to oversized windows and seamless patio doors that brighten a room to make it feel open and airy. When the hardware is absent, there is no visual break. Thus, it feels open, light, and bright — a nice feature in West Lake Hills properties.
Take the double shower head to a new level by creating an actual double shower, with showerheads side-by-side instead of on opposing walls. They don't take up more space but provide the appearance of two showers instead of one. Each side can have its own space for soap and shampoos and ample room for drying.
Wet room
Why have a separate space for the shower and tub when you can incorporate them both into a wet room? Extend the glass
shower walls
to encompass a standalone tub. You'll have plenty of space for double showerheads, too! Surround the entire area in a gorgeous marble slab or mosaic tile to create a spa-like, luxurious space.
Because of the extra room, you can hang pictures, plants, and other design elements. You could even add a full-length bench. Aside from seating, the bench provides a place for plants, décor, and storage. It is a unique feature for Westlake Austin homes for sale.
Floating cabinets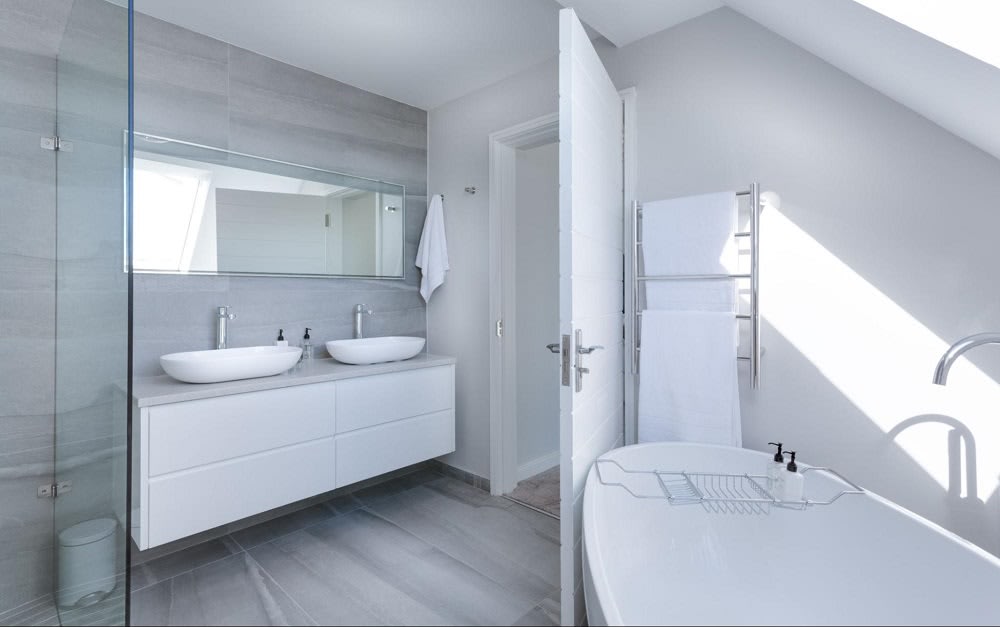 Instead of the traditional vanity that touches the floor, use floating
cabinets
. Because they don't touch the base, they open the room up and make it feel bigger. They accentuate your beautiful flooring, especially if you have lights underneath! If you swap out your sink for a wading pool sink, it won't take up as much depth in your cabinetry.
You might not lose any storage by switching to floating cabinets, either. If you need more storage, use open shelving that complements your cabinets. The shelving will also provide a place to add personality with sculptural artwork and plants.
Standalone tub
A freestanding tub adds a
spa-like
aesthetic to the room. It also serves as a beautiful sculptural element. The clawfoot tub is a classic and will never go out of style. Some modern shapes are taking the stage right now, too. An oval or egg-shaped tub has a minimalist vibe while also contemporary. They are often deeper than the traditional tub, allowing you to have a nice soak after a long day.
You can increase the luxurious feel of your tub by placing it on a platform. Consider raising the flooring underneath the tub to transform your tub into a throne-like status. After all, nothing says luxury more than a throne!
The finishing touches
Adding a few organic touches to the primary bathroom elevates other design elements, and it's a simple way to boost your home above others in the neighborhood. Using natural stone with curved/rounded features gives the room an essence of flow and movement. Interior design is entering an age where we resist straight angles and rigid structures. Plants provide lush color while also adding to the organic movement and flow of the room.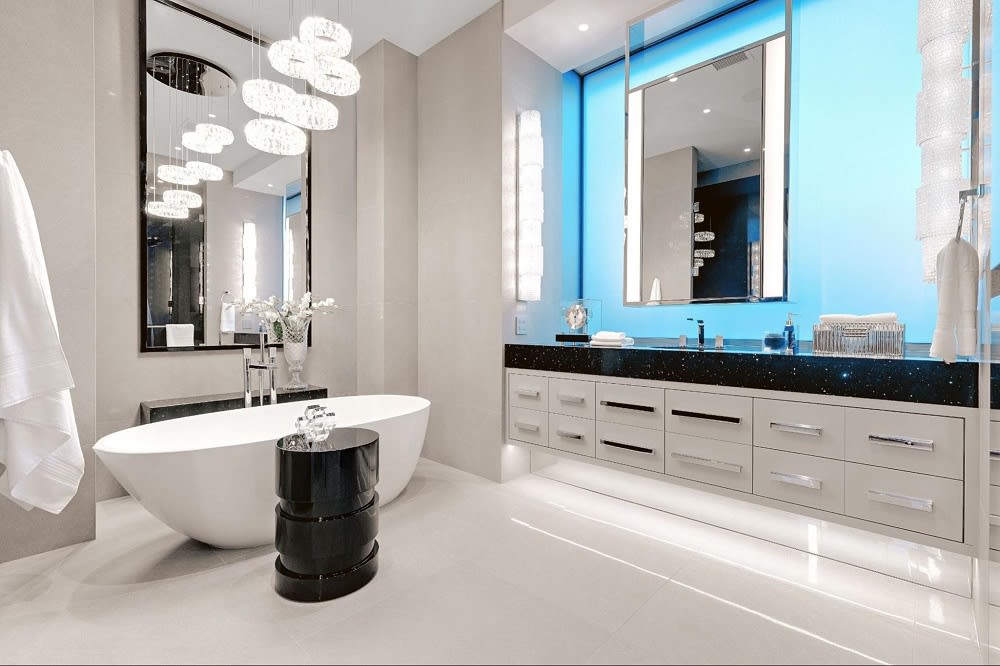 Modern hardware and
light fixtures
are the perfect finishing touch to your new luxury primary bathroom. Back-lit mirrors and toe-kick lighting under your floating cabinetry provide soft and elegant light. With all these elements in place, it's time to sit back and relax in your new personal spa!
If you have questions about remodeling projects to elevate your home and its value, the experienced luxury real estate agents of the
Kathryn Scarborough Real Estate Group
are happy to help. For over 20 years, they have been assisting clients in creating bespoke living experiences. Contact them today!